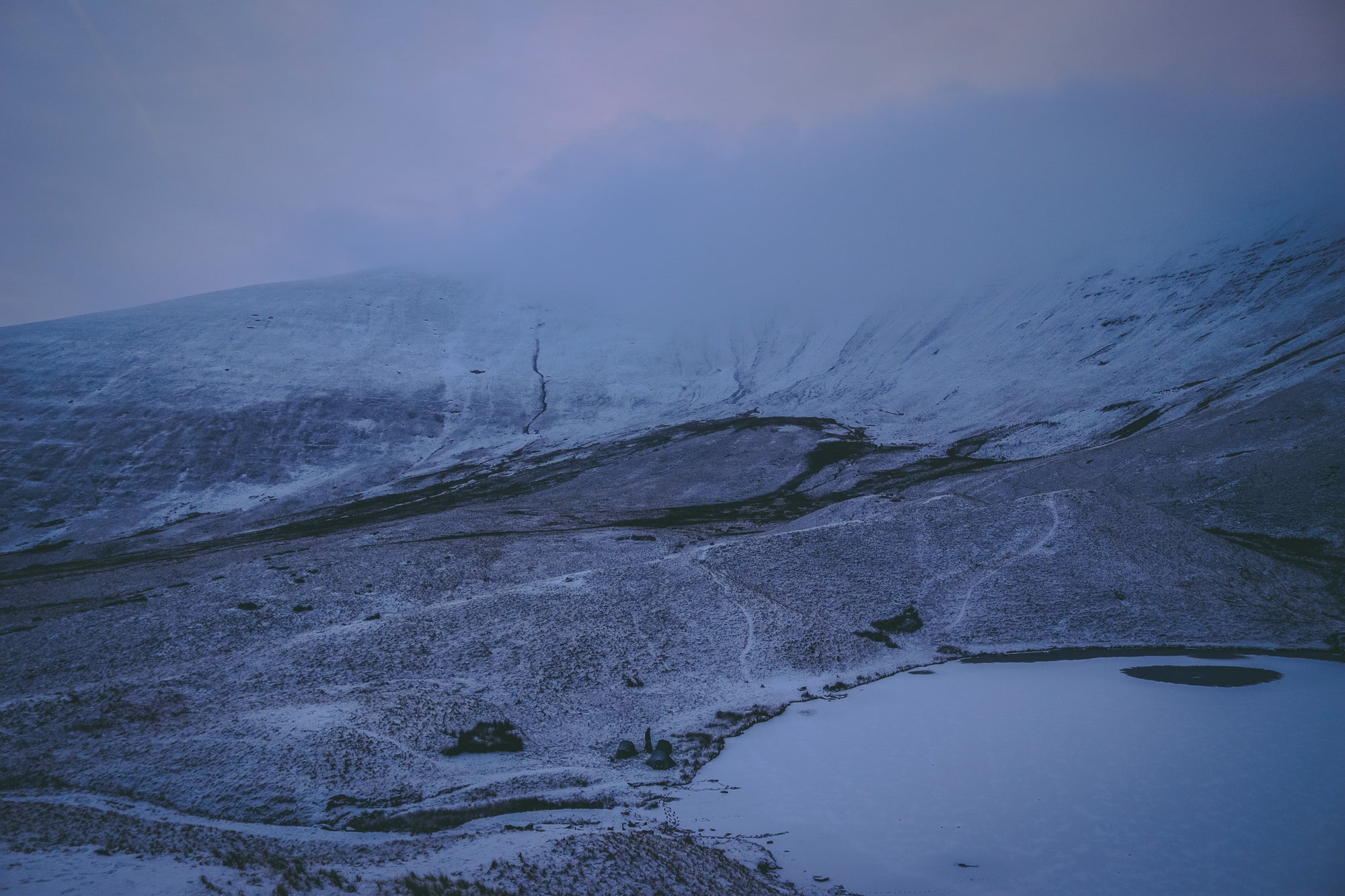 7 Essentials for Wild Camping
Is Wild Camping Legal?
In Scotland the Land Reform Act (2003) says that you can camp on most unenclosed land if care is taken. There are conditions and recommendations in the Scottish Outdoor Access code but generally speaking you are free to camp anywhere away from towns, gardens and arable land.
In England and Wales, although we have the right to roam over 'access' land it is illegal to camp without the landowner's permission. The exception to this is certain areas of Dartmoor with some strict conditions.
Why go Wild camping?
-15C with wind chill and no access to a toilet, why in December did we decide to go wild camping just off the summit of Corn Du, Brecon?
We have recognised that nationally, male mental health has been deteriorating at a rapid rate. Having periodic breaks from work and life have disappeared. It has become the social norm to spend hours on social media and become a slave to WhatsApp.
Wild camping takes away phone signal (if you pick your overnight stay location wisely) and requires a concentrated effort of looking after yourself.
Wild Camping in the Brecon Beacons
The day started with a 12 mile yomp/tab/hike around the south of Pen Y Fan and finished with a freezing and an always gassy effort up Jacobs Ladder to the summit of Pen Y Fan. I purposely stayed at the back as the sweeper in case any of the 2 lads in front of me got injured or couldn't keep pace…
The water feature that was next to our bed down location for the evening was quiet, secluded and most importantly away from any phone signal. As the light disappeared the temperature dropped, there was a moment where I was staring at my bergan hoping it would build my shelter and get me warm. Luckily, Jack from OlPro provided us with a spacious tent each which went up in less than 5 minutes.
After a quick steak and of course a mug of Contact Coffee, we went our separate ways to our tents to rewarm. Apart from an animal scratching around in the early hours for steak gristle (I'm still convinced it was Luke), the long nights sleep away from any connectivity was welcomed.
A night wild camping was epic, and we have more planned. Of course, there are some essentials that we made our night out comfortable.
Warm sleeping bag
Pusser does provide when it comes to warm sleeping bags. The green military issued bag is warm but it is cumbersome and heavy. The temperature dropped as low as -15C so it was important that we deployed a warm sleeping system. Our choice was a -10C for Comfort sleeping bag, sleeping bag liner, inflatable roll mat and a bivvy bag. This was more than adequate for a warm night sleep.
Coffee (of course)
Those of us in the military are familiar with field conditions. The "field" is generally a morale sapping world that includes sleep deprivation, hunger and cold. A hot coffee is essential to manage the morale sapping factors of the field. The Battle Bags are a quick fix and just require hot water to get your coffee on the go. Luke is a Aeropress pest so after the days march, he fired up his jet boil and had an AeroPress coffee for himself (jack) within 5 minutes.
Robust tent
Luckily it didn't rain or snow, but the wind was strong and very cold. OLPRO provided us with our accommodation for the night. The tents were 2 man and had ample room for all our wild camping essentials. An area out of the elements was essential to change into dry clothes. The tents in the morning had clearly taken the brunt of the chilled wind, changing to the same colour as the white ground. OLPRO's 2-man tents are perfect for wild camping, at an affordable price.
Steak
A common type of food eaten by soldiers outdoors is boil-in-the-bag meals. Some aren't too bad, but most are terrible. We opted for steak which was cooked with a frying pan and gas stove. A very welcome change and a very delicious meal.
Head torch
Brecon has minimal ambient light, so it is naturally a very dark place unless it is a full moon. A head torch is an essential bit of kit to ensure you can find your way around when you sneak out for a midnight piss. That said, I spent 15 hours holding a piss in because I didn't want to venture outside into the freezing temperatures. A head torch is also a good safety tool if you do happen to get lost but don't forget your spare batteries!
Gas stove
Any male above the age of 6 is confident they can start a fire with flint and steel whilst using natures unwanted logs as fuel. The reality is the logs on Brecon are rotten or have already been felled by the taffy woodsman. Let's face it, your flint is a pebble from your driveway and your steel knife is a Webtex special from the NAAFI.
Jet boil is by far the standout stove for all things hot coffee and noodles. For anything a bit meatier (like a steak) then don't be afraid to take a stove and a small pan. It's ok, nobody is judging. Just don't top flap it like a 40 year old bloke doing the Duke Of Edinburgh.
Loaded dits
If you are like me and all your dits are amazing, then this shouldn't be a problem…
A night away from the phone, tv and all the other electrical distractions should be embraced. How often do people actually talk to each other in person nowadays? Use the wild camping as an opportunity to unload all your life gripes to your mates.
Wild camping isn't new but is a great way to unwind. Just remember, if you are venturing out then in England and Wales you are required to get the landowners permission. Also ensure you leave no trace so take all your rubbish with you.
Enjoy and happy camping!